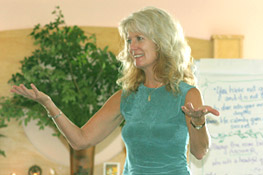 NAVIGATING CHANGE
Integrating Endings, Initiating Beginnings
Note: Christine's NEW workshop on change synthesizes her learnings from leading this workshop for 16+ years. To learn more about the NEW Navigating Beyond Change and see upcoming dates, please click here.
"In the aftermath of a dramatic loss and betrayal, I took Christine Warren's Navigating Change workshop at Kripalu Center. I have taken workshops in the past, but Christine has special skill in creating the perfect environment for learning and healing. Her formal instruction was inspiring and the climate she created was one of unity, complete support, regard, respect, love and light. Each minute of the workshop was beautifully choreographed to maximize our time and bring growth and healing. It is obvious that Christine has walked the walk. I left the workshop with hope that I would do more than just heal, but I would flourish."
– J.B., Corporate Development Professional, CT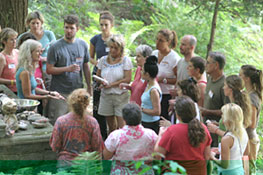 Consciously explore the lessons from your past, the wisdom offered in the present moment, and the creativity of your vision for the future. Learn about the gifts, pitfalls, and possibilities of the change process and gain valuable tools to navigate each of its phases with courage and confidence.
The program includes:
Completing Your Past: Integrating the wisdom and lessons of your past, experiencing the liberation of true forgiveness for yourself and others, and claiming the power of what you have learned.
Living in the Mystery of the Present: The value of not-knowing as you seek your next path in life. Tools and approaches for resting comfortably in the space between relationships/jobs/selves, while finding clarity for your next steps forward.
Creating an Inspired Vision: Using guided visualization and inner attunement, you'll identify your core life values and craft your vision for the next phase of your life, addressing both inner qualities and outer expressions.
Manifesting Your Vision: working with the inspiring teachings of Quantum Physics and metaphysics, you'll learn to access your Higher Self, focus your clear intention, and gain deeper trust in the divine plan for your life.
Often described as "life-transforming" by past participants, this program offers deep teachings, rich experiential work, and spiritual and personal growth explorations into navigating life changes with wisdom and well-being. Writing, artwork, dance, movement, healing rituals in nature, and play will enrich your experience. The workshop ends with a group ceremony of light, honoring our journey.
You may read my bio on Kripalu's website here.
"I am so grateful for the Navigating Change workshop at Kripalu that you gave all of us. It amazes me how seemingly effortlessly you can take a group of hesitant, wounded, intelligent, powerful adults to a place within us that allows such deep inquiry and change. Your openness, your knowing, your kindness and love are so powerful. I am in awe of your gift and in appreciation for your sharing it with me and my fellow travelers. This wonderful weekend with you will be a part of me for a long time."
– Linda Earls, Educator, Long Island, NY