Calendar
For more about all programs offered by Christine, see Transformational Workshops.
2014 Programs and Events
Click on titles for details on each program
JANUARY 30, 2014, Maui: "Standing in Your Mastery", 2-hour workshop for the One Dance Tribe Retreat, a 4-day conscious dance retreat on Maui's beautiful Northshore.
JUNE 23 - JULY 28, 2014, MAUI: Summer Women's Group: "Standing in Our Power, Presence & Love", 6 Week Monday Evening Group. This inspiring, experiential group for conscious women will explore women's voices, empowerment, and spirituality. We will meet Mondays, 6:30-8:30 p.m. for 6 weeks beginning June 23, at Christine's One Spirit studio in upcountry Kula. Fee: $195. For details, click here. To register, call or email Christine.
AUGUST 22-24, 2014: "Navigating Change: Integrating Endings, Initiating Beginnings" at Kripalu Center, Lenox, MA. Often called "life-changing" by participants, this workshop is in its 15th year at Kripalu. It gives you the tools, skills and teachings to complete closures in your life and forge an inspired vision for the next chapter. To register, call Kripalu: 800-741-7353.
SEPTEMBER 7, 2014, Santa Fe: "Coming Home to the Present", free Sunday morning lecture at The Celebration, Santa Fe, NM. All are invited to an inspiring, uplifting talk about home, consciousness, and finding true joy in the present moment. Meditation, live music, sharing and ceremony are included. See thecelebration.org for directions.
OCTOBER 12, 2014, HAWAII: "Lifewalk: The Hero's Journey", a workshop at Kalani Retreat Center, Big Island, Hawaii. As part of the One Dance Tribe weekend retreat, Christine will present her experiential approach to the powerful teachings of The Hero's Journey. Experientially walk through your own life, finding your boons, navigating dragons and claiming your gold. A one day workshop may follow on October 13 at Kalani: TBA.
OCTOBER 24-26, 2014:"Standing in Your Mastery: Manifesting Your Life From the Powerful Presence Within You" at Omega Institute in Rhinebeck, NY. Inspiring teachings, practical tools to take home with you, rich group guided experiences, soul journeys in nature, moving group ceremony and spontaneous dance and movement weave an experience bringing you to the source of your own mastery, joy, and to a meaningful dialogue with the guiding Presence within you. To register, contact Omega: 800-944-1001.

Click here to view workshops and events from past years.
---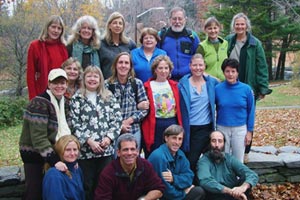 All photos © Copyright, with gratitude to:
Sabine Vollmer von Falken
www.sabinephotoart.com
Cynthia Johnson Bianchetta
www.sacredearthphotography.net
Ravi SK Chandra Gupta
RCG@momentumBD.com
James Black
www.jamesblackphoto.com
Giada Aline
www.giadaaline.com