FULLY HUMAN, FULLY DIVINE:
A TRANSFORMATIONAL RETREAT
"Let the beauty you love be what you do. There are a thousand ways to kneel and kiss the earth." -Rumi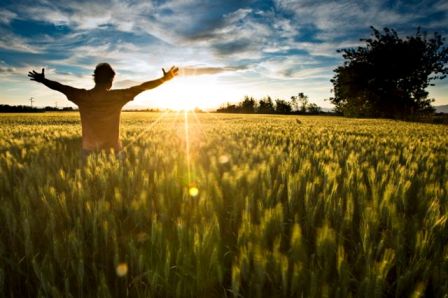 It's been said that we are spiritual beings having a human experience, but in facing life's daily questions and challenges, we must find ways to navigate the seemingly disparate worlds of healthy human response and enlightened spiritual awareness. In this deeply inspiring, playful, and highly experiential retreat, we'll stand on the threshold between our humanity-the ebullient, embodied, joyful turf of manifesting the life we long for-and our divinity-the liberation and peace of knowing that we are connected as Souls with All-that-is, part and parcel of God.
We'll begin each day outside with flowing, heart-centered Kripalu yoga before breakfast. Christine will teach easy, uplifting meditation approaches, distilled to 15 minute practices for modern schedules, to guide you centering into your core connection to Spirit. We'll share a visionary healing quest through enchanting forests and streams, find answers to significant life issues, and re-envision our life path through nature's guidance. An evening campfire will find us singing our soul songs, playing games, and communing with the stars.
Christine will teach five core lessons from the Course in Miracles to transform the way we perceive, and thus manifest, our world. The ancient wisdom of the Tao Te Ching and potent metaphysical approaches to creating a visionary life will be taught and experienced through creative group processes. Christine will share her Evolutionary Human Map showing the life path we travel, from the rocky terrain of dealing with challenging emotions, people, and circumstances to discovering a Divine inner peace that embraces our humanness. The mind-altering teachings of quantum physics, applied to our daily lives, will bridge us from human wholeness to divine wisdom.
Take a stand for your magnificence and live it fully. Come join with a loving group of fellow seekers as you let your vision of who you are and how you walk through your life be healed, expanded, and illumined. Tap into your inner wells of abundant joy: play, creativity, and exuberant living. Leave with inspiring teachings, uplifting practices and new friends to sustain your journey back home.