YOUNG ADULT & TEEN PROGRAMS
in CONSCIOUS LEADERSHIP & VISION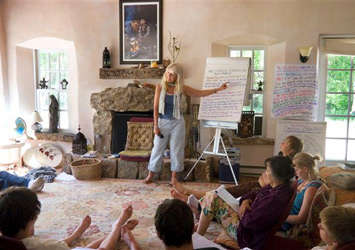 "What I Know About Teens: Teens are wise old souls in young bodies. They are feisty, smart, insightful, edgy, deep thinkers and bodacious players on the field of life. Teens dance harder, sing louder, hug bigger and demand to know The Truth more urgently than anyone I teach.
Teens believe anything is possible and I love that about them. I respect them, believe in them, and see who they are in their immense potentials no matter what masks or insecurities are present. Teens are brilliant lights among us who are going to change the world. We need them. Deeply. To help them see their own magnificence, stand in their vision and power, love themselves and step up fully into their lives is my greatest joy as a transformational teacher."
-Christine Warren

Christine Warren is a youth motivational speaker, mentor, and a director of teen leadership training retreats. She has worked with homeless teens, teens of privilege, once institutionalized teens, brilliant scholars, high school drop outs.

Christine Warren is a national teacher of Conscious Leadership and Vision for young adults and teens. An inspirational speaker, trainer, and retreat leader, Christine works with youth to develop their gifts for Conscious Leadership, Vision, Co-Creation, and Manifestation. Young adults often describe her retreats as a breakthrough experience in finding their inner wisdom, authentic power, and inspired vision for their life.
"Christine Warren has a gift for youth mentoring and teen leadership training. She worked indelible miracles amongst our young adult and teen group in Swarthmore as one of our youth motivational speakers, directing our Teen Leadership training. Her teaching targeted and transformed key beliefs about their lives, vision, and potentials and opened each young person to new opportunities and ways of communicating with themselves and the world. Our young people reported having significant new openings for action through her guidance in attuning to Source.
The clarity, kindness, and masterful facilitation that permeates her work opens young people to their immense potentials. Our group included African-American youth, at-risk and homeless teens, Islamic women, and young people of privilege. Christine worked with all with equal empowerment and respect and drew them all forth as a community, in a timeless journey of self-discovery."

-Evan Hough, Leadership Consultant, Melbourne, Australia;
former U.S. Ambassador to Paris and South Africa
"Christine is a gifted teacher and facilitator and has touched our young girls' lives. Her warmth and loving presence immediately put my teenaged girls at ease. They laughed and learned, opening both heart and mind and in the end asked Christine to come back again! As one of Seeds' youth motivational speakers, she brings a lifetime of personal and professional experience in transformational modalities to offer to these young women."

-Myra Krien, Director, Pomegranate Studios, Mosaic Dance Company,
and of SEEDS, non-profit youth mentorship program for social change
Teen Leadership Training and Youth Mentoring

Christine's youth programs integrate thought-provoking teachings, skills-building, creative experiential work, attunement in nature, and time outdoors in inner exploration, movement, play, and group process. Young adult and teen programs include:
The Five Rings of Conscious Leadership: "Leading From the Source"; working co-creatively with others; discovering your unique expression in the world through expression of your gifts and abilities; manifesting your talents and vision through applying powerful principles of quantum physics and metaphysics; and being of service to humanity.
Conscious Leadership and Sourced Vision: Christine's deep experience in facilitating individuals and leadership teams in developing "Sourced Vision" guides this work. Empowering teachings and skills-building are based on the breakthrough findings of Quantum Physics, applied to manifesting personal vision into outer reality.
Vision Questing: a deeply experiential day in the woods including sacred group circle, rituals to shed old, limiting selves; attunement to Spirit in nature; guided experiences and group sacred circle to enact healing and vision.
Ceremony of Vision: supported and honored by everyone in the group, each young person speaks their vision and commitments, their "Sourced" guidance for their lives, their action plan, and their intention to be of service to their community and world.
"Christine Warren has a unique way of reaching young adults and having them empower themselves to be leaders and live their passion. As one of SGLA's popular youth motivational speakers, Christine led dynamic, introspective Leadership and Vision retreats for SGLA at her One Spirit Center that truly transformed our students. They became grounded, inspired, clear and uplifted in living their highest potentials through her guidance. Our young participants were profoundly altered through Christine's retreat."

-Myra Murphy Jacob, Executive Director,
SGLA~ Sustainable Global Leadership Alliance
Christine's Teen Leadership Training and Youth Mentoring Experience:
As the former Director of Kripalu Center's Conscious Leadership Center, Lenox, MA and co-director of New Resources for Growth (NRG), a corporate training company located in West Stockbridge, MA, Christine has trained leaders and executives of corporations from six countries in Leadership, Vision, and Teambuilding retreats. Her work with teens and young adults includes serving as the Leadership and Vision trainer for S.G.L.A., a national organization which trains teens and young adults committed to become global leaders in sustainability, and leading youth retreats for Rivers and Birds, a non-profit organization training teens to become ecological leaders in their communities. She has trained graduate students in Body-Mind-Spirit Counseling at Long Island University and at Lesley College, Cambridge, and was among one of the well received youth motivational speakers for Seeds, a Santa Fe program developing empowerment and vision for teen women. (Click on About Christine Warren for further information.)
Christine works as a youth mentor seeing teens and young adults in her private life coaching practice to help them develop their gifts, find empowerment, solve relationship issues and find a powerful purpose and vision for their lives. Young adults and teens often describe her work with them as being a breakthrough experience in finding their inner wisdom, authentic power, and inspired vision for their life.
"After Christine's Leadership and Vision training, I felt great lucidity and connection to who I am really am and what I am here to do. Her wisdom and presence are profound. Spending time with Christine is an excellent way for youth to get on track with their lives and vision. Her way of revealing clarity about my purpose and essence was rare and far from ordinary.
I am nineteen years old and working towards developing a financial trust to lessen poverty and increase sustainability in the Third World.
-Noah Bridgers; age 19, SGLA Leadership and Vision Participant